Welcome, spring! This season is about enjoying the simple things in life that bring happiness: bursting blossoms, longer days, friends, family, and a clean, orderly home. Searching for easy-breezy ways to spiff up your spaces? Check out our fresh ideas to make any area of your home beautiful. 

 

Parade of Homes 2014 
It's that time of year again; the Boise Spring Parade of Homes is upon us. The Boise Spring Parade of Homes will run from Saturday April 26th - Sunday May 11th. Come check out the best of the best in the Treasure Valley and see what's new and exciting in the world of home building. There are 40 homes in this year's parade and Silverline played an active part again this year as a proud associate member of the Building Contractors' Association of Southwest Idaho. You can check out a wide variety of Silverline Systems services throughout this year's parade. From beautiful signature custom closets and garage cabinets to durable and attractive garage floor coatings; Silverline works with the best builders in the region to help add that extra touch to help push their homes from impressive to extraordinary.
 
Make some time and take a drive to check out all of the great builders and these amazing homes. If you're thinking about building a new home or just looking for some ideas on how to spruce up your current homestead the parade of homes offers a perfect opportunity. With homes throughout Ada County there is sure to be a few of these great homes near you! As always you can pick up your official guide to this year's parade at the Silverline Design Center on Fairview. Also be sure to check out the official website at boiseparadeofhomes.com 
 
Below we have listed some of the fantastic homes that Silverline provided concrete beautification and home organization services to. Silverline Systems is proud to be part of this year's Spring Parade of Homes in these following show pieces. (Systems designed and installed by Silverline are listed below the address in Bold)
 
Parade Home #6                              Parade Home #8
Blackstead Building Co                     Solitude Homes
"The Cottonwood"                             "The Bellomy"
Spurwing Greens                              Legacy
4264 W. Greenspire Dr.                     5889 W. Founders Dr.
Meridian, ID 83646                            Eagle, ID 83616
Color Flake Garage Floor               Light Flake Garage Floor
 
 Parade Home #24                             Parade Home #26
Tradewinds General Contracting          Legacy Homes
"The Stone Haven"                             "Le Reve"
Mace River Ranch                              The Shores
903 S. Lone Hollow Way                    1410 W. Sherington Ct.
Eagle, ID 83616                                 Eagle, ID 83616
Color Flake Garage Floor                Light Flake Garage Floor
 
Parade Home #38                              St. Jude Home
Brighton Homes                                 Berkeley Building Co.
"The Monterey"                                  "Dream Home"
River Heights                                      Heron River 
6363 E. Grand Prairie                         271 S. Barkivine Way
Boise, ID 83709                                  Star, ID 83669
Color Flake Garage Floor                Light Flake Garage Floor

 

 
Mother's Day Gift Ideas      
    
She gives so much as a mom, wife, professional and friend, but sometimes she needs moments to herself. A calm, clutter-free area of her own can give her space and time to exhale and just be. Consider the gift of organization this Mother's Day. It's a wonderful way to bring her happiness and peace of mind every day. Here are just few ideas for starters:    



 

Serenity starts here 
She will love to plan her wardrobe in this serene space. This walk-in closet boasts fresh, modern style with its clean lines, sleek hardware, and warm Chateau finish. Wow her with fab features including a pull-out mirror, a velvet-lined jewelry tray hidden inside lockable drawers, and slanted shoe shelves for storing and admiring her shoe collection.       
 

 
 
Breathing room 
Surprise her with a sophisticated home office solution. A streamlined design with Autumn Cherry cabinets and work surfaces create a comfy place to escape for reading, working or surfing the web.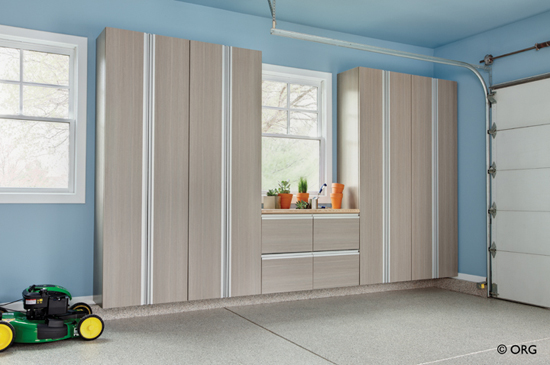 Gardener's sweet spot 
Find room in the garage for her to pursue her love for gardening with a dedicated passion center. A durable butcher block work surface provides a perfect spot to start seeds and pot flowers. Full extending drawers organize small garden tools, while wall-mounted cabinets keep everything stored off the floor and behind closed doors.
We're blooming with clever ideas to make your home everything you want it to be. Take your pick of any space or area, and we'll create a personalized solution that you'll enjoy for years to come. We can help you get organized or beautify that old gray concrete so you can have more time to simply stop and smell the flowers. Enjoy spring!